One of the things I've come to look forward to during the doldrums of winter and the despondency of another unsuccessful season is the reprieve afforded by events like All-Star Weekend and the Winter Olympics. There's nothing like a week-long break from watching your favorite NHL team lose more games than it wins, especially when its replacement is superstars palling around and playing world-class hockey. And for the guys who had to stay home? Surely they got up to all kinds of crazy things during their time off, right? Let's find out!
1) Erik Condra (last month: 1)

Are you just doing this interview so you won't get fined?
2) Erik Karlsson (last month: 4)

If you're like me, you felt a warm, nostalgic glow swell within you when you saw this picture of a 12-year-old Erik Karlsson, only to have it dissipate gradually into a subtle but unshakeable feeling of familiar, quiet dread. Because ultimately, this picture reminds us that, like you, like me, like our loved ones, like the Ford Focus we're still paying off, Erik Karlsson is getting older. Less time elapsed between the day this picture was taken and Erik Karlsson's draft day than between his draft day and today.
This picture reminds us that having a plan is important. We look at this picture of a 12-year-old Erik Karlsson the way, soon, we'll look at a picture of the 24-year-old Erik Karlsson, as a snapshot in time, a brilliant moment gone forever. When we remember that, how should we spend our time together? As a series of stops and starts, not-quites and good-enoughs, until all that's left is pictures? Or in a considered, respectful way, a way that recognizes we're on an all-too-brief journey with the only 24-year-old Erik Karlsson that will ever exist? This picture reminds us that Erik Karlsson, the hockey player, isn't a tangible asset; he's a palm full of sand we can only hold for so long.
A Senators fan has two reactions to this picture. The first is "Awwwwww." And the second, whispered, is "Hang on, Karl. We'll get you some help."
3) Kyle Turris (last month: NR)
Just what the world needs, another smartass 25-year-old Hill staffer.
4) Bobby Ryan (last month: 7)

@SIra_92 @b_ryan9 pic.twitter.com/A8y4nFeVuP

— Peter Laviolette (@fakelavy) January 24, 2015
@fakelavy @SIra_92 that's us watching Phil get caught looking

—
Bobby Ryan (@b_ryan9) January 24, 2015
All-Star Weekend is a good reminder that, if you're an NHL superstar, it really doesn't matter where you live. We all move to take a job somewhere, start a family, travel for work too much, and have a little neighborhood Italian restaurant we think is our secret, and that experience is largely similar in any number of cities, whether that's Pittsburgh, Tampa, Raleigh, or Ottawa. The Senators are offering seven years and $50 million? Let's do it – we're already here, and I love the chicken parm at that place around the corner.
If you're an NHL superstar it doesn't matter what city you choose to make your home in, because the real party, the get-together with your colleagues with whom you share so much in common, only happens once a year, always in a different city. We're doing it in Columbus this year? Sure, why not – Foligno keeps telling me about the osso buco at this hole-in-the-wall red sauce joint he likes.
All-Star Weekend reminds us that we can be comfortable living almost anywhere, as long as we make plans to get together with old friends every now and then. Where you go almost doesn't matter; pick a city, pick a weekend, and it'll be just as fun as it was last year. It's a worthwhile break from work, and when you go home, wherever that is, you'll always have the pictures, and you'll still have that great local pizza margherita waiting for you.
5) Chris Phillips (last month: 8)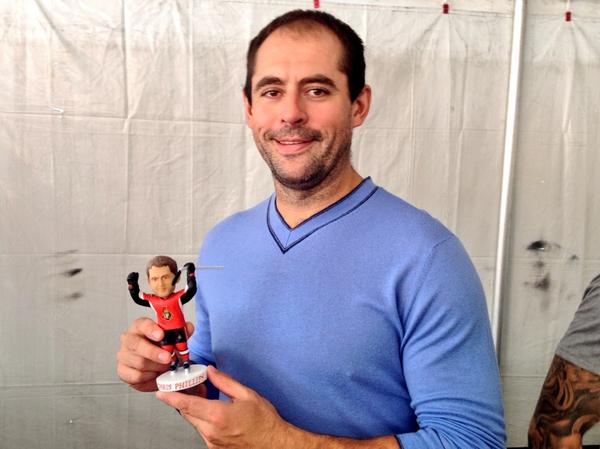 Chris Phillips had his bobblehead night at the Canadian Tire Centre last month, and I'm just going to let James take the mic for this one:

@Senators more like Wig Rig

—
WLCM 2 YR KRLSSN YRS (@wtyky) September 27, 2014
6) Mark Stone (last month: NR)
Welcome to the power rankings, Mark Stone! Everybody talks about how Mark looks like Quentin Tarantino, but for some reason no one's asking why he looks nothing like his brother. Anyway, here's Mark reviewing the point totals of Ottawa's pending RFA forwards:
Lookin' good, Mark!
7) Curtis Lazar (last month: 5)
@PhillipsErin #Sizedoesntmatter

—
Curtis Lazar (@CurtisLazar95) January 14, 2015
See, this is how Spezza and Heatley fell out.
If you hadn't already heard, Curtis Lazar went and won himself a gold medal as the captain of Canada's world junior team, putting him in the esteemed company of teammates Mika Zibanejad, Kyle Turris, Clarke MacArthur, and Chris Phillips (twice!). For a guy who's still only got one goal in 34 NHL games, things are pretty good for Curtis Lazar at the moment, huh? He just turned 20, his GM thinks highly enough of him not to trade him for three months of Antoine Vermette, and gas prices are so low right now he can literally just drive around all day. It's almost enough to make you forget how young Lazar really is, until you see him looking like he's a ward of the Big Brothers program on his way to the All-Star game or dressed like Tintin as he rides cheerfully on the back of a flatbed cart.
So what's the next phase for Lazar? When does he have to start answering the tough questions about expectations, about performance, about finding his own condo? Next year, right?
Okay, probably never.
8) Mika Zibanejad (last month: NR)
We can compare and contrast the profile Lazar enjoys with that of fellow gold medallist and first-rounder Mika Zibanejad. Whereas Lazar is already universally beloved, we see here that after three years in the NHL, Zibanejad, though popular, still hasn't risen above being co-billed with war criminals Florida Georgia Line, although he does manage to grab headlines over Rob Schneider. But hey, even Alfredsson needed ten years to win this city over, right?
9) AR-15 Rifles
Here we see J-G Pageau and Cody Ceci at the range, each having chosen a rifle Wikipedia describes as "popular among civilian shooters and law enforcement forces around the world due to [its] accuracy and modularity." Wikipedia goes on to note that the AR-15 features a "butt stock that [does] not swell or splinter," suggesting it may also be a good choice for Marc Methot. Thanks for reading.
10) Proving you're close, personal friends with Jake Gyllenhaal
Sure, what the hell. See you next month!
NOT RANKED: Eugene Melnyk; missed connections; setting your filter to "Spanish-Language Romance Novel Cover"; when keeping it 100 goes wrong.