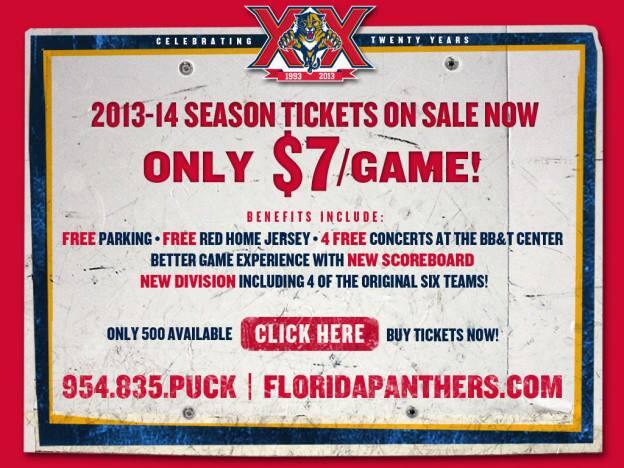 Have you seen this? Let's talk about this.
How is this deal economically viable? Even if it's only for 500 tickets…though once those 500 are gone how much do you want to bet you can just phone up 954-835-PUCK and say you want the Crazy Ass Deal above and they'd give it to you out of desperation. Let's calmly review the incentives for making this $287 dollar commitment to YOURRRRRRRR Floridatown Pantherrrrrrrrrssss (whoo uuup till earrlierrr thiiis weeek haaad aaaa hiiiigher payroooll thaaaan Ottaaaawwaaaaaa)!!!
1. Free jersey. $200 retail…likely slightly cheaper in the States. I would estimate $150-$160 USD. Either way a great, great perk many fans who put 1000s of dollars up would kill for. In this case it's in exchange for buying tickets at less than a third of the price of an upper 300 level seat at a Sens game.
2. Free PARKING (for the whole fucking season!) if you consider it at Ottawa's $12 rate at 41 games home games that's a potential of nearly $500 lost per season seat holder. At the advertised 500 season tickets it's a potential quarter million dollars swallowed….though maybe the Panthers' arena isn't buried in the Florida everglades like ours is and not as many people have to drive…Still, cheap out on the estimate and lop even 50K off that and it's still 200 grand they could be doubling Bobby Butler's salary with. Oops, just looked it up, the arena is located in a suburb of Fort Lauderdale. Lots o' driving. Lots o' parking.
3. FOUR not one not two…FOUR free concerts at the Church of Latter Day Saints Center (or whatever). Free parking for that shit too? Also, does that include notoriously big ticket names like Bruce Springsteen, U2 or Fleetwood Mac? Those tickets probably take the loss on a greater scale in the nosebleeds than they would behind the home bench at a Panthers game. If said season seat holder chose to scalp these concert tickets it would be 100% profit for them! Pick expensive enough concerts, sell the tickets at the right price, you're looking at your season ticket package paying for itself right there. The rap game Adam Smith up in this piece.
4. Improved experience with new scoreboard just in time for 20th anniversary season! Hmm, this one sounds familiar. Except, you know, Florida's scoreboard sounds like it will be installed in time for their 20th season. Also, the Florida Panthers owner (I looked it up it's Dick Cheney) doesn't sound like he's expecting the fans to kiss his hairy beanbag for replacing a scoreboard THAT WAS LITERALLY SHORTING OUT DURING NHL GAMES THAT COUNT and replacing it with the industry standard after 20 years. Congratulations on investing in your own property after a decade of ownership Euge…oh no, no THANK YOUUUUUUU *buys 12 dollar can of Heineken and eight dollar poutine*
5. New and Exciting Division! Awwwwwwwwwe this one is actually so frigging adorable. Acting like the dissolution of the South Easy Division bodes well in ANY way for the Panthers' on ice product. Well, actually I guess Buffalo is in their division now…so there's that? Actually more original six teams does mean more potential revenue for the Panthers given all the snowbirds in Florida. Apparently you might as well be at the Bell Center when Montreal is in town. Have the citizens of Detroit made their way South yet like in The Road?
I've been of the opinion that though Melnyk may not be as wealthy as say, Mark Cuban,  I think he exaggerates when he makes his vague proclamations about the financial situation surrounding the team (What? Our Euge? Exaggerate?). I don't think that Ottawa is the Rangers (few are) but 2 rounds of playoffs to break even? Give me a fucking break the team has missed the playoffs TWICE in the near decade he's owned it. Note: In one of those missed years they introduced a third jersey that a surprising amount of people bought for some reason. Think that doesn't compensate? Trust me there's a sweet mark up on a $200 dollar polyester long sleeve shirt. Ottawa apparently has pretty decent ticket prices as far as the rest of the league goes but has one of the higher attendance rates. Factor in all those playoff games over the past ten years where I'm going to go ahead and say the tickets are NOT decently priced and how you dont have to pay the players in the post season….How is there not money there? I've paid over $100 dollars to sit in 30 dollar seats in ROUND ONE watching the 8th seed get pounded by the no.1 seed. Fans are opening their wallets and doing their part.
Listen, I can be a little hard on the season seat holders. Hey, I love you guys, you help pay the bills, but sometimes we troglodytes don't like hearing about how hard it is out there for a pimp and how because you have enough money to attend every home game that the line to meet, get a photo and autograph with Erik Karlsson was too long so you had to settle for Jim O'Brien and…actually you know what that does sound like all kinds of boring. I take it back.
Anyway, I have to say, if I had the money to buy season seats (Ladiiiies) season after season and less than a calendar year removed from ANOTHER lockout that largely had to do with the distribution of hockey related revenue, I would flip my lid if I saw this Florida thing! I mean I'm not a season seat holder and I am. Makes those post-lockout fan incentives seem like nothing. Thanks for the free bag of popcorn! Can I has four free concerts with that? Consider that just last night The Justin Beibler Dancers performed a sold out show at Canadian Tire Piazza where you best belieb a lot of parents parked at a handsome fee…not to mention the venuEUGE gets a cut of the merch sales. This is all in the off season btw.
I'm saying if Eugene commanding that Murray work on the cheap whilst improving a playoff team that routinely sells out games, just hosted the all star weekend, 
has fans that have adopted the 3rd jersey like it's the home uniform oh and they just 
DID make that coveted second round all while operating in the cap basement; gets people talking about how the sky is falling for the organization then what is success? Most importantly, what in the fuck does this Panthers season ticket deal mean?
I'm not saying Post-Divorce, Post-Getting in Legal Shit Eugene is Scrooge McDuck backstroking through as many gold coins as he once was but in a small market sport like NHL hockey an owner who cries poor tends to get the casino. One needn't look further for proof than how Oilers owner Darryl Katz went on that little weekend trip down to Seattle to sniff around retail prices and magically got that big helping hand to build that brand new stadium he was looking for. If you're going to run a team as terribly as the Oilers I imagine the NHL prefer you do it in a place where people actually attend games.
In closing, these guys didn't become billionaires by being terrible negotiators. They leave that to the Paul Holmgrens of the world.