Please click play on video before reading. Sorry if there's an advertisement before it that you have to deal with…which I'm almost positive there is as now you have to sit through some garbage about TD Bank just to watch someone's cat fart these days– OH IT'S STARTING GOTTA GO!
*very poisonous looking pitch black smoke clears as you see me dragging myself out from under a pile of burning plastic lawn furniture the size of what the Greater Toronto Area considers a "ski hill"* 
COUGH, COUGH…Hello. Everybody COUGH, My name is James. Let me be your Spirit Guide. WELCOME 2 ANOTHER GR8 SEASON OF THIS WEBSITE!
To say that the time that has passed since last we met for a good old JDP back in spring has been "A Whirl of Wind" would be a thunderstatement *rim shot on broken drums* (it's probably sinking in that you didn't miss reading these as much as you thought you did). I'm not going to go over any of it as you've heard way too much about it already and if you haven't, you can catch up here and meet up with the rest of us in a bit. For the first time in 16 months I can finally say…We. Have. A. Game. To. Talk. ABOUT:
The Sens have been dealt a difficult hand being served up a six game, mostly western road trip to start their 2013-14 campaign. To compensate for this situation the league's schedulers made Ottawa's first opponent the Buffalo Sabres.
Okay can we TALK about this team for a second?
If you ever want an example of what a good job Bryan Murray has done with the little resources he's been given, look no further than D'arcy Regier's Sabres. We're watching a playoff team that has financial concerns over a guy on AN ENTRY LEVEL CONTRACT meanwhile Buffalo got a new owner that said to their GM, "Here's all the money in the world, make us great again like we were decades ago." Bro comes back with, "I got this. Not only have a locked up superstar Ville Leino [basically a street cred Clarke MacArthur] but….are you sitting down? I got us Christian Ehrhoff [basically a decent fantasy league FA defenseman] until…the year…wait for it…2021!"
Imagine what Murray could do with a blank check? Dang. Who knows what the Sabres are going to look like in a couple of years as their two best players forward Tomas Vanek and goaltender Ryan Miller are UFAs at the end of the season. One has to assume both players have been frustrated with living in the cellar are probably going to finally be freed head out of town at the trade deadline. Does this mean Ottawa should ease into tonight's game like Euge a few pina coloadas and barbiturates deep into a hot tub after a hard day of being the worst on Toronto radio? No. These guys are both in contract years where they could stand to cash in big time. They're coming to play. Plus, one guy scores a lot and the other guy stops the puck. Could be a rough combo to deal with. This is only compounded by the fact that this is an Olympic year and you'd better believe that Vanek will be looking to crack Austria's NOTORIOUSLY competitive Olympic lineup.
Hey Erik, what did you get up to this summer? 
"Ehhhhh yeah, I mean, obviously, did the Euro techno festival circuit and ehhhhh went to the gym once or twice."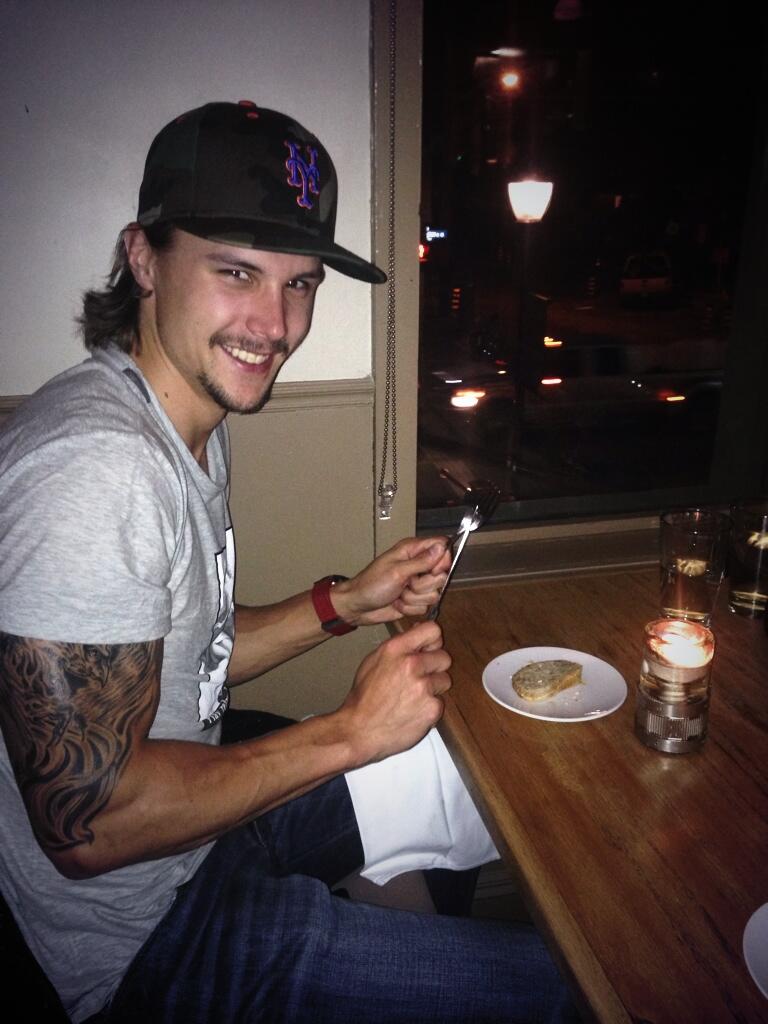 Uhhhhh…yikes. Did dude do a few months in the clink for racketeering in the summer?
"I aint seen pipes THAT big since warping straight to World 4-1 back in '85!" 
                                                    – Super Mario's Brother (Luigi) 
So I think it's worth mentioning that Buffalo finished dead last in shots allowed last season at an average of 33.5 per game…or y'know the amount that Erik Karlsson likes to fire in the second period. Seriously for whatever he's saying about how his foot is feeling, by the look of EK's arms those shots don't look like they'll be getting any softer. Tonight we're going to get our first look at a Wiercioch-Karlsson powerplay pairing. Honestly, I am tempering my expectations for game one as I remember I was way too hyped at the home opener two seasons ago where Gonchar and Karlsson stepped on the ice for their first crack at the man advantage. I was disappointed when they didn't score infinity goals on their first point shot. With the addition of Bobby Ryan to Spezza and Michalek you'd think there'd be enough power out there to put one in. With Steve Ott and Walking Piece of Garbage Patrick Kaleta on the opposing team lord knows they'll get a few chances…if they fail to capitalize on them they are definitely going to hear about it.
The Battle of Goaliesberg
Since Tim Thomas has refused to play for Barack HUSSEIN Obama and finally got his citizenship to his newly established principality of NewFreeLand cleared (meaning his wife finally finished making his passport out of construction paper) it's not too early to say that a war for the starting spot on the US olympic team IS ON for Miller and Anders– what's that? Jonathan Quick is American? It's not too early to say that a war to be Jonathan Quick's backup on the US Olympic team IS ON for Miller and Anderson!
In yesterday's prediction post I mentioned that I think if Anderson looks shaky to start the year that Lehner will step all kinds of up ins as soon as he gets the chance and will do his damndest to best him out of the starting slot. Guess what? 24 hours later i still feel that way! It's no secret that Lehner looked much better than Andy so far through preseason but this is the real deal now, honey (sorry).
Anderson can put up a shutout tonight and he still wont be out of the woods that Lehner is hunting him in. Ottawa faces Toronto tomorrow and has a grueling road trip for the next couple weeks. Lehner will see starts in that time. I still can't believe I'm writing about two GOOD goalies battling it out for starts in Ottawa. We've come a long way, babies!
Kwieting Koncerns
Okay so what does Ottawa have to do tonight to stop all the hand wringing that came from what I thought was a pretty decent preseason?
– Jason Spezza has to get through the game without getting hurt
– Milan Michalek has to get through the game without getting hurt
– Craig Anderson has to get through the game without getting hurt
– Spezza, Michalek and Ryan have to look like they've played more than a couple of games together (particularly on the powerplay).
– Erik Karlsson has to look the same as he did two seasons ago
– Patrick Wiercioch has to play at the same level as Sergei Gonchar (No preshaaaaa)
– Jared Cowen has to look like a guy who deserves to make more money than both Marc Methot and Chris Phillips OR put another way more than Patrick Wiercioch and Joe Corvo combined.
– Beat down a clearly inferior divisional rival who are the brink of a rebuild.
Wowzers. A tall order but I think the guys will get some of that stuff done tonight. The more of those concerns they can calm through solid play the fewer rough questions they will have to deal with day in and day out. An early win will allow them to focus on coming together as a team after a weird and wild last season.
Remember October is starting off with an extensive road trip so steel yourself for a bit of a rough go out of the gate. It will even out as the season goes on and hey, it seems better to get it out of the way early than in January or something.
Smoove Jimmy's Playaz 2 Watch: 
Jean Gabriel Pageau: Get used to this one. Love seeing him lined up with Greening and Condra. That is going to be one fast bottom six line. Greening smash things and Condra just PASS TO PAGEAU. Can't wait to see if JGP can make a statement early, even if it's continuing to dominate the face off dot (hey that shit matters big time on a possession team!).
Patrick Wiercioch: Tempered expectations not withstanding, I am still very excited to see how he fares loading up on secondary assists playing the power play with the King. I have a feeling he wont be as timid to shoot as Gonchar sometimes was.
Clarke MacArthur: With all the other story lines going on I feel MacArthur's arrival might have been a little lost in a shuffle of questions surrounding bigger names. Still, for what it's worth I think he managed a point in every preseason game he played including a couple of beautiful goals. Also interesting MacArthur is a former Sabre, which is nice….to put "former" in front of Sabre I'm sure. I think he's going to get a bit of a chance to fly under other teams' radar as things get going. Hopefully he, Turris and Conacher can take advantage.
Thanks as always for reading, sticking it out through a rough off-season and most importantly ENJOY THE GAME!