May is a land of contrasts. The Senators of summer – those deathless kings of the beach, chowing down on foot-long hot links aboard their Sea-Doos – have yet to emerge fully, only now poking their heads out after a long winter like so many baby robins. Yet with the season finally over and emotions from the first round just beginning to fade, the last thing we feel like talking about is actual hockey, isn't it? We're all gradually disengaging from the game, remembering only to check in on each increasingly-satisfying Habs playoff loss, ready for something, anything different.
May is not the time for 3,000 words about why black-on-black doesn't work for Patrick Wiercioch, is what I'm saying. So no ruminations this month, no philosophy, no prose – ten quick hits and we're out. Let's go!
1) Erik Condra (last month: NR)
https://instagram.com/p/08ehtTuhd9/

"Goodnight to the rock 'n roll era" – some band, probably
We're sending off pending UFA Erik Condra the only way we know how, at the top of the power rankings one last time. Goodnight, sweet Michigan prince. Flights of angels will sing thee to thy rest, on the third line in LA, or Chicago, or some other team with an analytics department and $1.5 million dollars.
2) Erik Karlsson (last month: 1)

We could talk about Karlsson-family secondary sex characteristics and genetic predispositions to wispy facial hair, or how Karlsson's brother looks like Jeff Sweedy, but I just want to point out one thing. The man on the right has the genes of an elite Swedish defenseman, and he's taller. The last time the Senators had a guy like that, they traded him for Kyle Turris. Bryan! Call up Kenny Holland and tell him you'll give him a Karlsson for Anthony Mantha! I could be a GM.
3) Cody Ceci (last month: 8)

"I'll use your tub for as long as I want, thanks. Pay you? Bro, you should be paying ME for this. What do you mean you're closed tomorrow?"
4) Telling a Sad Short Story Through Official Team Merch (last month: NR)
"For sale, playoff towels, used thrice."
5) There is No #5 This Month (last month: NR)
6) Curtis Lazar (last month: NR)
I have to admit I was a little disappointed when I saw Courteous Lazar being photographed with an unwashed truck this month. After all, this is a guy who shows up to interview day with healthy snacks, throws gentle shade at his billet's hairline with adorable marker sketches, and even manages a winning smile when he's caught in a candid during a night out with his orthodontist. Then he goes to Carp for bingo but can't be bothered to wax his Ford Venator-class Star Destroyer the next day? Didn't we scout this guy carefully?
7) Chris Phillips (last month: NR)
Why does Chris Phillips NEED to play hockey next year, anyway? He's already hit the sweet spot most players only dream of when they're grinding it out in junior; entrepreneur, dad-charity stalwart, beloved local icon holding court with a double-double everywhere he goes. He's basically Ottawa's Johnny Bower, but with 50 more years to enjoy it. So just enjoy it, Chris, and think about how furious we'll all be when you're gone, and the team immortalizes you with a #4 under the ice, and some dumbass blogger makes a cheap, tasteless joke about it.
8) David Legwand (last month: 3)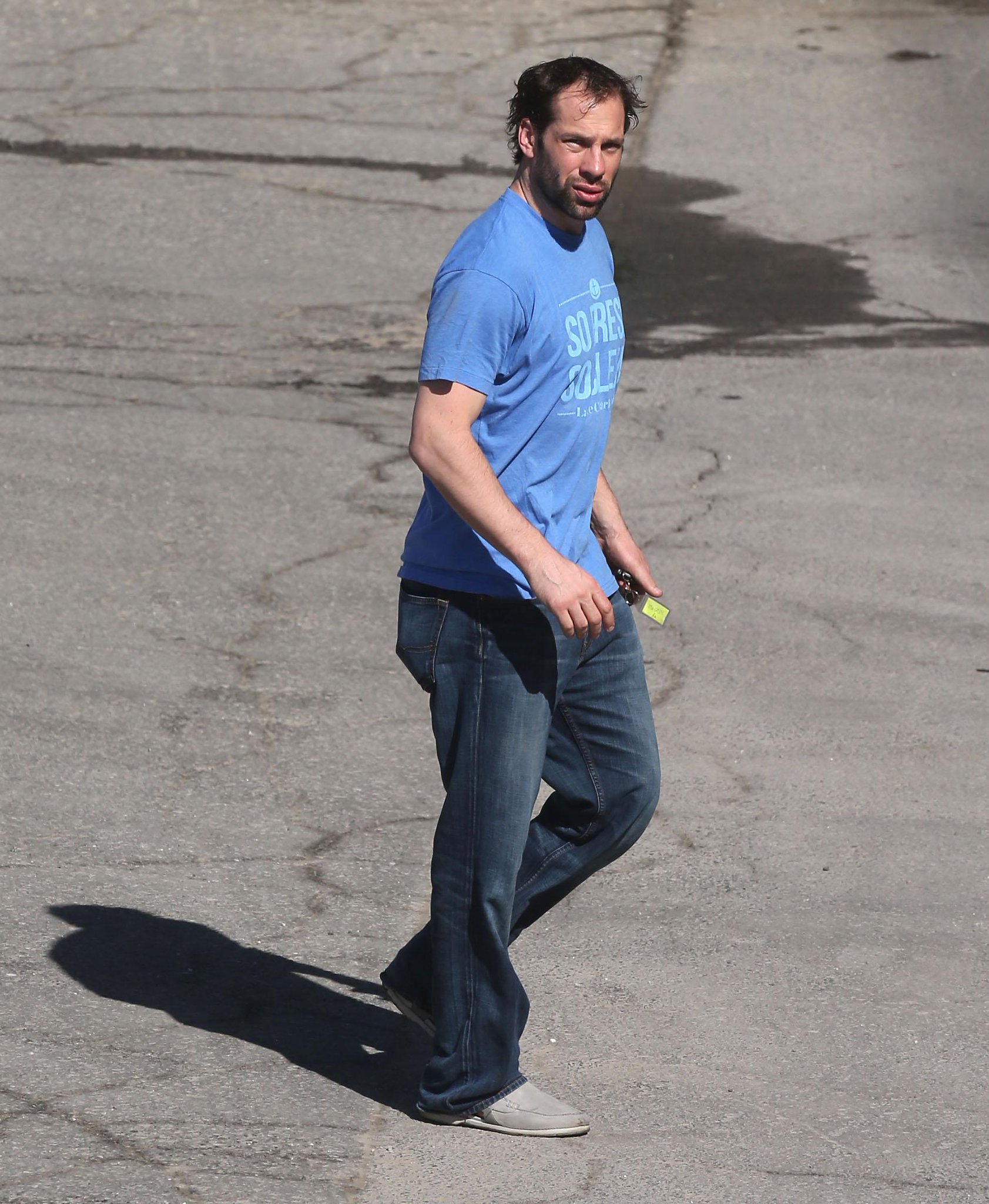 We talked last month about how David Legwand is a man cheerfully out of time, a man without social media or a tinker's cuss about what the younger generation thinks. Add a comb to that list, I guess. Christ, Legwand. You look like Bobby Ryan if he got frozen in a glacier for 20 years with a pair of jeans from the 90s.
9) Our Friend, Amelia (last month: NR)
Second-last but not least, we'd be remiss if we didn't salute Amelia L., who's moving on as the managing editor at Silver Seven after several years of making it the go-to blog for Sens analysis, insight, and a number of other things that have nothing to do with WTYKY. Amelia helped a number of great young writers get into blogging and was never afraid to take a chance on a highly-unpopular feature. Best of luck with what's next, Amelia; you will be missed.
10) Andrew Hammond (last month: 4)
Is it possible that a man who uses a selfie stick could still be paid a lot of money very soon? Sure, what the hell – see you next month!
NOT RANKED: Eugene Melnyk; hot tips; the classic combo of white socks and grey sweats; when the prom chaperones can't tell you're high AF; getting shaved by a bear; tweeting while slumped against your condo door, oranges casually spilling out of your overturned brown grocery bags as well-heeled neighbours hurry to the elevator.